Admissions Prediction Tools: Admissions Splash Vs. College Chances
Applications exist on the Internet that claim to tell you, with a reasonable degree of accuracy, your chances for being accepted into a given college. Their users enter personal information such as GPA, standardized test scores and hours spent in extracurriculars and the programs judge your enrollment potential. But is this information really reliable? We did a little undercover work to find out.

My Character
For the purposes of this experiment, my name is Eric Smith. I'm a high school senior from the Chicago suburbs looking to enroll in a four-year college in the fall of 2011. I'm a pretty good student, but not the best: I've got a 3.1 GPA and graduated in the top 25% of my class. I took both the ACTs and the SATs, as we college-bound Midwesterners tend to do. My SAT scores were 550 math, 530 reading and 520 writing while on the ACT I scored 22 on both English and math. All of those scores are slightly above the national averages for 2010 as reported by their respective organizations.
As for my personal life, I spend about 15 hours a week either participating in extracurricular activities or working. In fact, I play basketball. I'd like to play some kind of sport at college, and maybe get into an honors society. I happen to be white (sometimes applications ask), but I didn't name my religious affiliation. I'll probably be looking for some financial assistance as I embark on my college journey.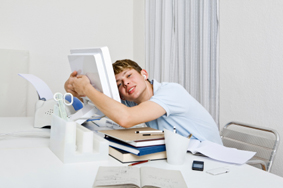 The idea here was to craft a student who might reasonably expect to go to college. With that in mind, I selected three schools from my home state to evaluate this student's chances. I also used one from neighboring Wisconsin to incorporate an out-of-state factor. The schools in question are generally considered to cover a reasonable spectrum of admissions difficulty. According to popular opinion, Illinois State University (ISU) is generally achievable for those who work at it, the University of Illinois (U of I) gets a little more selective, and Northwestern University tends to accept more elite students. University of Wisconsin-Madison (U of W) is probably on par with the U of I.
Admissions Splash
Of our two prediction devices, Admissions Splash is more user-friendly. It allows prospective students to generate a list of schools before they input personal data, which provides for easy comparisons at the end of the process. It also tends to require more relevant information (anticipated major, particular high school attended, college plans for sports and extracurriculars). Admissions Splash rates acceptance chances on a scale from 'very poor' to 'great,' supposedly by incorporating admissions data released by 1500 schools.
After I input the information for Eric Smith, Admissions Splash reported that I had a 'great' chance of getting into ISU. U of I and U of W results came back as 'fair,' while for Northwestern I was told my chances were 'poor.'
College Chances (via College Data)
College Data requests much more invasive information from its users: your home address, phone number, whether or not you want help with financial aid and even what kind of bank accounts you have! As an impartial user, I did not enjoy working with this site, and I got the sense they very much wanted my money.
College Chances produces results on a line with three segments: 'reach' (as in, 'it's a stretch'), 'maybe' and 'good bet.' Unfortunately, Eric Smith never scored higher than the lower end of 'maybe' (for ISU). U of I and U of W came back on the upper end of 'reach,' while Northwestern's results laid in the middle of the 'reach' category.
Conclusions
Interestingly, results differed significantly for Eric between the two applications. While Admissions Splash gave him quite a bit of hope for ISU, College Chances was not so kind. My personal experience suggests that Admissions Splash comes closer to reality here. It's also designed far better than College Chances, presenting a much more helpful interface and questions that are on-point to one's college career.
Of course, both sites exclude crucial factors in the college admissions process. Neither can incorporate personal essays or letters of recommendation, for instance, and those are often paramount in getting accepted to a university. It's been said again and again that colleges look not just at grades but at the many facets of their applicants, and these programs can't really approximate that experience.
That said, these applications do have an interesting use. Although they should never be used to guarantee actual application results, college hopefuls might employ them to compare school admissions standards. In my experiment above, both applications agreed on the relative difficulty of being accepted by the schools I used, and those site's guesses matched up with my own experience. That's not to say that these programs should always be trusted, but if you want to know whether one state school or another holds better odds for an average student, there might be some helpful information for you here.
To continue researching, browse degree options below for course curriculum, prerequisites and financial aid information. Or, learn more about the subject by reading the related articles below: