Apps for Study Skills
Do you need an extra boost to remember all that information you're studying? The mobile study apps discussed in this blog can help you create flashcards to study better. These apps also include quizzes so you can test what you've learned.

Mobile Apps to Help You Study Better
In this series, we've already explored how to turn your smartphone into a mobile homework helper. But what about studying? This week, the Education Techie is taking a look at mobile apps that can help you improve your academic performance. Most of the studying apps I found are flashcard apps. Some of them have different accompanying bells and whistles that can allow you to enhance your studying experience. Whichever one you decide is best for you, having flashcards at your fingertips is likely to make studying more convenient. You might even convince yourself to swap out some of that time spent playing Angry Birds for good quality study time.
Available on both iOS and Android devices, Cram allows users to make flashcards with images. In addition to making flashcards, you can also use the program to generate multiple-choice tests to ensure you're actually absorbing the knowledge you're studying. The app also generates progress reports so you can monitor how you're doing. Cram features a clean, easy-to-use interface and has been recognized for its quality by numerous media outlets.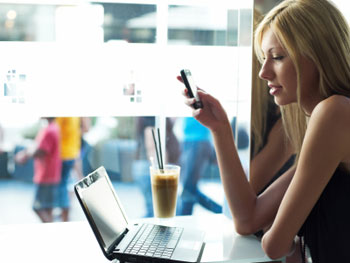 This free, Android-only app exists as a companion to the StudyDroid website. Though you can use the app on its own, the StudyDroid site allows users to do more with the app. With the app itself, you can create flashcards and add images, including pictures you take with your phone's camera. If you don't like the idea of using your phone's keyboard to create flashcards, you can register for an account on the StudyDroid site. It's free to register, and allows you to sync with the app on your phone. The StudyDroid site also features a large database of 22 million pre-made cards that cover subjects like human anatomy, Spanish, medical terminology and pharmacology.
iMemento is compatible with the iPhone. This program allows users to create flashcards directly on their phone or on their computer and then transfer them to their mobile device. This will likely be a plus for users who don't want to use the small on-screen keyboard on the iPhone. You can transfer a variety of file formats, including CSV, meaning that you can import charts and graphs if you'd like.
Once your cards are loaded into iMemento, you can configure them in a variety of ways. Users can add photographic backgrounds to cards, change text colors or make text bold. In addition to these controls, users can also configure the algorithm to set automatic reminders of cards due.
This is the third article in a series about mobile apps that can help make you a better student. Previously, the Techie wrote about writing apps and math apps. The techie will continue looking out for the best education tech tools, so stay tuned for more!
To continue researching, browse degree options below for course curriculum, prerequisites and financial aid information. Or, learn more about the subject by reading the related articles below: