College Clone: Unauthorized Website Steals College's Identity
We all know the dangers of having our identities stolen online. This hallmark of cyber crime has previously been a concern primarily for individuals - businesses and other organizations have legal and practical protections against copycats. But Reed College, a private liberal arts school, has fallen victim to virtual identity theft.

A Case of Wholesale Identity Theft
Located in beautiful Portland, Oregon, University of Redwood sounds like a great place to go to school. Visitors to its website can see pictures of its pretty brick buildings, its wonderfully verdant campus and its smiling students. The Redwood website speaks of the school's history - founded in 1908 by Amanda and Simeon Redwood - and its amenities, like the Cooley Art Gallery and Redwood Canyon. Such a site is likely to entice many prospective applicants.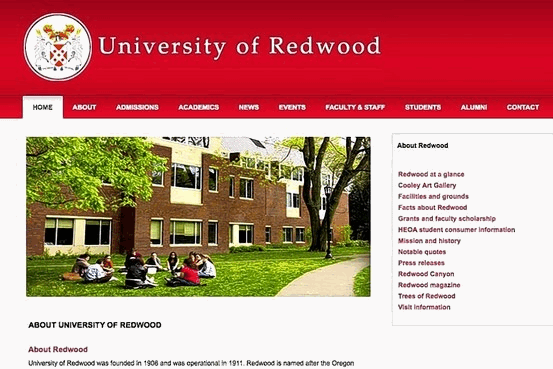 Unfortunately for potential Redwood students, the college is a fake. Not only is the University of Redwood completely fictional, but it is an Invasion of the Body Snatchers-style clone of Reed College, an actual institution in southeast Portland. It's almost as if the creators of the Redwood website (pictured above) did a 'find and replace' on the original school's site, removing all instances of 'Reed' and swapping in 'Redwood.' For instance, Reed College was founded in 1908 by Amanda and Simeon Reed. In the middle of the campus is a lake and wilderness area called Reed Canyon. All the Redwood creators did was change the school's name and contact information. The rest of the information on the copycat site, including pictures, is nearly identical to the original school's online home (pictured below).
Reed's campus boasts all of the great features described on the University of Redwood's website, and is a competitive, exclusive institution. It makes sense that scammers would choose this school to copy. But unfortunately, that very attractiveness is what makes this case so serious.
Fallout for the College - and Applicants
To the casual observer, this case of virtual identity theft might seem more amusing than anything. But according to officials at Reed, the theft is serious. Not only is intellectual property infringement arguably being committed, to the detriment of the college, but the Redwood site has drawn notice from actual students.
According to a Reed spokesperson, the clone site got attention on higher education blogs in Asia. Reed's good reputation has drawn international applicants, but the school is not famous enough to be identified through fakes like the University of Redwood site. Unfortunately, some students may have fallen prey to the clone site, and might have sent an application - including a $50 fee - to the scammers.
There has been some back-and-forth between Reed's legal team and the Redwood site's host. The fraudulent site was originally discovered in 2010 and taken down due to copyright infringement. However, the scammers managed to convince the hosting company that they had removed all the infringing material, and the Redwood site was reinstated. Its reappearance was discovered again by Reed College in 2011.
For now, it appears that the University of Redwood site is down permanently. And since the case attracted widespread media attention, it seems unlikely that it will come back. However, this strange case points to yet another way the Internet can be used to take advantage of people. Hopefully, college applicants will learn to be on their guard.
To continue researching, browse degree options below for course curriculum, prerequisites and financial aid information. Or, learn more about the subject by reading the related articles below: