Digital Presentation Tools: Camtasia Reviewed
The Education Techie reviews tech tools that can help students and teachers. This week, the techie is taking a look at digital presentation tools. Today's review: Camtasia.

What Is It?
Camtasia allows users to record, edit and present video of their computer screens. Using this program, you can record presentations that can be played live for audiences, or added to video playing sites like YouTube. There are different versions of the program for Mac and Windows. While some differences in specific capabilities exist between these products, both ultimately perform the same function. I'm using a Mac for this review, so most of my take on the program will be based on this version.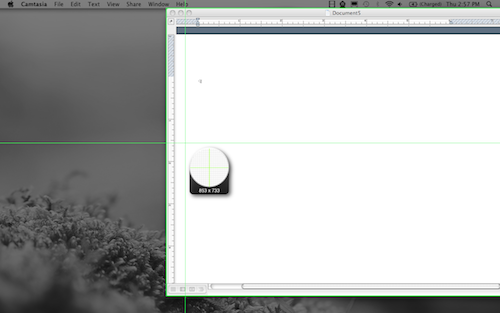 Before you start using the program, you'll need to work out the basics of your presentation. Camtasia allows you to record, but it does not provide a system for creating materials to use for the presentation. The program does have add-ons that you can use, but these come in during the editing process, after the recording is done. Once you know what you want to record, Camtasia will allow you to choose what part of your screen you want to record. You can select fullscreen, or you can choose to focus on specific parts of the screen (pictured above). Similar control is given over audio settings - you can use your computer's audio, a microphone or a camera. If you don't want to record any visuals from your screen, you can opt to record audio-only.
After you're done recording, the editing process allows you to shape that footage into your final presentation. The editor lets you splice in footage that isn't from your original recording, manipulate the timeline of the presentation and crop portions of the video that have content you want to remove. In addition to these manipulative abilities, the editor function has a 'canvas' tool. In the canvas, you can add shapes, text and other items to the presentation. This will allow you to really customize your presentation. You can insert arrows to call attention to specific items on the screen, or add captions or titles to different parts of the video.
Once you're done recording and editing your presentation, you can export it to your desktop or to iTunes. You can also export MPEG-4 videos, or customize your own export settings. Camtasia has a 30-day free trial. After that, the Windows version, Camtasia Studio, is $299 for a single-user license. A single-user license for Camtasia for Mac is $99. Educational discounts are available.
What Are Its Pros and Cons?
Camtasia is a good program if you need to make a presentation using different applications on your computer, or if you want to be able to export or share a video of yourself making a presentation on your computer. If you don't need those features, though, you probably don't need the program. There are simpler programs out there that will let you put together a good presentation.
If Camtasia suits your needs, I think you'll be really pleased with the program. Its interface is fairly user-friendly, and if you have trouble with it, the Camtasia website offers a lot of helpful video tutorials. It may not be the best program for everyone, but Camtasia does a good job filling a specific niche.
This concludes our series on digital presentation tools. Previously, the Techie reviewed Prezi. Stay tuned for more reviews and articles from the Education Techie!
To continue researching, browse degree options below for course curriculum, prerequisites and financial aid information. Or, learn more about the subject by reading the related articles below: