Digital Presentation Tools: Prezi Reviewed
The Education Techie reviews tech tools that can help students and teachers. This week, the techie is taking a look at digital presentation tools. Today's review: Prezi.

What Is It?
We've all sat through boring slide shows. You might have not-so-fond memories of a particular professor or teacher's monotonous PowerPoint presentations. But presentations don't have to be boring. If you want to make interesting presentations, Prezi is a program that can definitely help.
Prezi allows users to work in a more intuitive and free form manner than some other presentation software. When you start a new presentation with Prezi, you can simply click anywhere on the 'canvas' to write down your basic ideas. You can organize your ideas however you like. After you get some basic ideas down, you can zoom in to each one individually to add detail. You can add images from your hard drive to the presentation, and you can organize your ideas using 'frames,' which allow you to draw a shape around things you want to group together.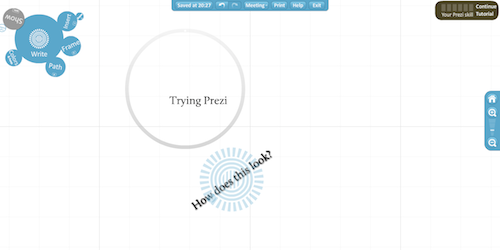 The means of organizing the flow of your presentation is managed through the 'path' function. This is a really simple way of allowing users to organize a flow on a canvas that isn't necessarily set up to be linear. To determine the order of operations in your presentation, you simply click on the groups or items in the order you want them to appear. The path tool draws arrows between these items, and numbers each item as you go along. When you make your presentation, using arrow buttons (or your computer's arrow keys) guides you along the path you created. Zooming in is as simple as clicking on a certain item.
In order to use Prezi, you have to register for an account. There are three membership levels. The free public membership allows users to make presentations and offers 100 MB of storage space on Prezi's servers.
In order to make your content private, add your logo, or work offline, you'll have to pay for a higher level of membership. The next two membership levels, enjoy and pro, cost $59 and $159 per year, and offer 500 MB and 2000 MB of storage space, respectively. Only the highest membership level will allow you to work offline. Both paid plans offer 30-day free trials. For students and teachers, there is an additional free membership level that offers the same perks as the enjoy level membership. The pro version for students and teachers is just $59 per year.
What Are Its Pros and Cons?
Overall, this is a really simple way to make customized presentations. To me, one of Prezi's biggest drawbacks is the fact that free accounts cannot be made private. However, the program makes up for that a bit by offering perks to current students and teachers. The presentation system developed by Prezi is innovative and visually interesting.
Prezi's interface is among its best features. It's simple and very cleanly designed, and everything you need is within easy access on the canvas screen. The mechanism you use to move text, called the 'transformation zebra' (presumably because of its stripes), is the same one you use to scale and change the orientation of the text. The zebra is also used to perform the same functions on any images you add. Rather than having to continually revisit a drop-down menu to make minute changes, you use the same main function menu and the zebra to do the bulk of the work on your presentation.
This is the first in a series of reviews of digital presentation tools. Stay tuned this week for more of these reviews from the Education Techie!
To continue researching, browse degree options below for course curriculum, prerequisites and financial aid information. Or, learn more about the subject by reading the related articles below: