Digital Research Tools: Dropbox Reviewed
The Education Techie reviews tech tools that can help students and teachers. This week, the Techie is taking a look at online research tools. Today's review: Dropbox.

What Is It?
Dropbox is a program that enables users to access the same files on multiple devices. When you download the program or start using it through the website, you create an account that will enable recognition on whatever devices you use. The software is compatible with Windows, Mac and Linux operating systems, and it works on iPhones, iPads, Blackberrys and Android-operated devices. A free version of the program provides users with 2GB of storage. Storage accounts of 50GB and 100GB are available at monthly and yearly prices, ranging from $9.99 for a monthly 50GB account to $199 for a yearly 100GB account.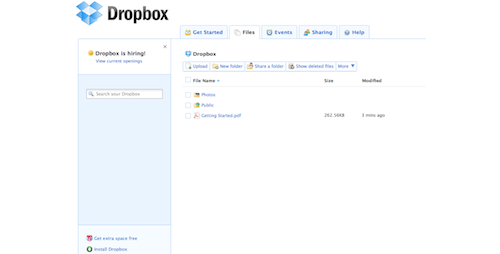 The documents and files you add to the program are accessed through a folder on computers and through an app on smartphones and other portable devices. These folders and any applications you have sync to ensure that whatever you add to the file shows up on your Dropbox account, anywhere you might try to access it. The Dropbox website also has your files on it, so even if you don't have the program installed on a particular device, you can still access items with Internet access.
In addition to serving as a catchall for your files, you can also use this program to share photos, videos, documents and other files with collaborators and friends. You can email your entire Dropbox folder, or just parts of it, to others, and they can look through your files on their own devices.
What Are Its Pros and Cons?
As a research or schoolwork tool, Dropbox is most useful for those who do their work on more than one computer or device. For example, it can really benefit a student who has a desktop computer at home and also uses a campus computer. If you find yourself emailing files to yourself so you can download them onto a different device, you might want to look into Dropbox.
If you have a laptop that you bring to school with you, I still think that Dropbox could be useful. One big plus in its column is the fact that free accounts are available, so trying to incorporate it into your work habits would only cost you a bit of time. One scenario in which I could see this program being a bit of a lifesaver is if, say, a student with a Dropbox app on a smartphone is away from the computer and realizes a paper he or she has written is quickly coming due. This student might access the document through the program and email it to a professor without getting to a computer.
Another potential plus for this program is the ability to use it as a sort of backup safeguard against losing important documents on a computer that could be lost or stolen. It can also be useful if you're forgetful and don't always remember to keep a USB drive handy for file transfer. However, if you don't really have issues keeping track of your files across multiple devices, and you already have a good backup system in place, Dropbox probably isn't essential. While a great program for some people, I don't see it as a universally useful tool.
The Education Techie will continue to review tools that can be used in academic research. Stay tuned for more of these articles this week!
To continue researching, browse degree options below for course curriculum, prerequisites and financial aid information. Or, learn more about the subject by reading the related articles below: