Digital Research Tools: Mendeley Reviewed
The Education Techie reviews tech tools that can help students and teachers. This week, the Techie is taking a look at online research tools. Today's review: Mendeley.

What Is It?
Mendeley is a reference management and project database program that also has social networking capabilities. It is compatible with Windows, Mac and Linux-operated computers, and is available in mobile apps for devices running iOS. You can run the program on multiple devices, and it will automatically sync itself in each place, so you can be sure that your account is the same across different platforms. A Mendeley account is necessary for this kind of cross-platform performance. Accounts are free.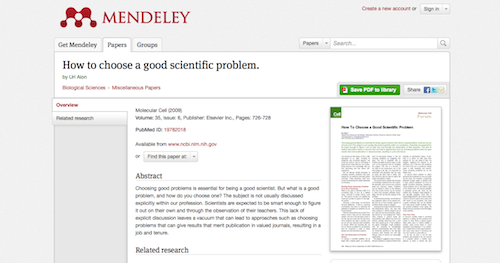 As a database, Mendeley lets you upload papers and other data, including references and citations. When you upload a document, the program automatically extracts any existing metadata for categorization purposes. Once your document is uploaded, you can tag and group it however you like, so you can keep all papers of the same type together, or group papers and research for the same project in one place. One cool feature, and a good incentive to use this program for storage instead of just keeping everything on your computer, is that you can do a full text search of all the documents you add to the program.
The social networking aspect of the program is less frivolous than what most people might associate with such features. Instead of being a way to showcase your personality, and gawk at others' personalized representations, Mendeley's networking features allow you to get into groups with other academics in the same discipline. You can also share your papers and research with others, and search for papers written by other academics. In this sense, it is a research tool that can help you find the information you need.
What Are Its Pros and Cons?
Unlike some of the other research tools I discussed for this series, Mendeley bills itself specifically as a program for academic use. This doesn't necessarily make it more useful for academics - that kind of judgment is best made on an individual basis. However, its education-specific capabilities, like auto bibliographies and research suggestions, may bring some to prefer this program.
One thing I can see as a turnoff for some is the social networking aspect of Mendeley. Some users just might not want to share their work, or access others' work, and may prefer a more simple storage program to keep track of their papers and research. In this sense, Mendeley might be a bit too much for some potential users. For those who are looking for a digital means of plugging into an academic network that they might not otherwise be able to access, though, this program could be a great fit.
This is the second review in a series about academic research tools. Previously, the Techie reviewed Dropbox. Stay tuned for more of these reviews this week!
To continue researching, browse degree options below for course curriculum, prerequisites and financial aid information. Or, learn more about the subject by reading the related articles below: