E-Learning Podcasts: The Pulse Reviewed
The Education Techie reviews tech tools that can help students and teachers. Today, the Techie is taking a look at ''The Pulse'', an education technology podcast.
What Is It?
The Pulse is a podcast that is featured by Inside Higher Ed, an education trade publication. This podcast is produced and hosted by Rod Murray, who is the Executive Director of Academic Technology at the University of the Sciences in Philadelphia. In this capacity, Murray is concerned with finding the latest ways to incorporate technology into learning, both in and out of the classroom. As such, he makes an excellent guide through the realm of education technology.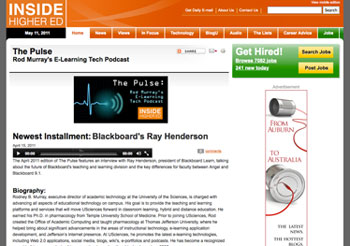 Each episode of The Pulse focuses on a topic related to education technology, including e-learning and traditional classroom formats. The podcasts sometimes feature Murray alone, or may also include another professional with whom Murray discusses a specific topic. Some examples of guests on the podcast include Brian Hughes, associate director of design, publishing and service at the library of Teacher's College of Columbia University, and Ray Henderson, President of Blackboard Learn, the company that produces the popular online learning courseware program Blackboard.
I wouldn't describe The Pulse as a strictly e-learning focused podcast, though online learning and other non-traditional classroom education topics are prominently featured. The topics covered provide a good cross-section of issues, events and products that relate to the broad topic of education technology. The podcasts are about medium-length for a typical podcast, about 10-20 minutes long on average. It's updated somewhat regularly, about once a month, though not on a set schedule. You can listen to The Pulse on the Inside Higher Ed website, on Rod's own website or through iTunes.
What Are Its Pros and Cons?
The informative content of this podcast is a huge plus. I was impressed by Murray's thorough approach to education tech topics. He is clearly highly knowledgeable in the field of education technology, and anyone who is interested in this subject is likely to benefit from listening to the podcast. Personally, however, I don't know how often I would tune in. This is not due to any issues with content quality or accuracy; those aspects of the podcast are great, and for those who don't care about anything else, my complaints aren't likely to register.
Still, though, I think it's worth mentioning what made me less enthusiastic about becoming a repeat listener to The Pulse. Episodes usually start out with some kind of humorous parody song, and I generally found these more corny than funny. Additionally, segments or different points were often demarcated by a short guitar riff or other musical sound effect that occasionally got repetitive and annoying over the course of a listen. I just didn't find it that pleasant to actually listen to, and that's an important part of a podcast for some listeners. If you're more of the utilitarian sort, or you share Murray's taste in music, this probably won't be a drawback for you at all, so you should definitely give The Pulse a chance.
Interested in other educational podcasts? We've got you covered!