Education Technology Blogs: Digital Writing, Digital Teaching Reviewed
The Education Techie reviews tech tools that can help students and teachers. This week, the Techie is taking a look at some education technology blogs. Today, we'll talk about ''Digital Writing, Digital Teaching''. Schools offering Instructional Design degrees can also be found in these popular choices.

What's It Like?
Written by Troy Hicks, an English professor, Digital Writing, Digital Teaching touches on topics relating to writing, technology, new media and the future of education. The blog takes an in-depth look at these subjects and also touches on some of the professional events that Hicks takes part in, including conferences. It's updated somewhat regularly, a few times a month, and features an RSS feed for those who want to subscribe.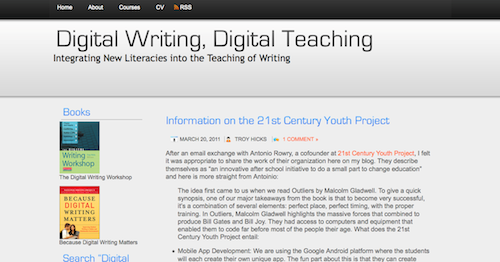 There is a lot to chew on while reading Digital Writing, Digital Teaching. Posts are well written and cover a nice variety of topics while still remaining anchored in education and technology. Sample post titles include 'Trial Run on Voice Diction Software', '(Still) Learning How to Be a Digital Writer, Digital Teacher' and 'My Response to the White House.' Some of the posts are quite lengthy, longer than what one might expect out of a blog. This might be a little much for some readers, but I think that it's good quality. It shows how passionate the author is, and also helps make the posts more thorough.
The author's personal voice is very prominent on the blog. Many posts feature his personal experiences with certain techniques or events. Others include Hicks' thoughts about education policy and news. In some respects, it's almost like a personal blog, though its content is hardly frivolous. You're not going to get a whole lot of details like what Hicks ate for breakfast, but you are going to be reading about his experiences and his thoughts. I don't consider this a drawback, but some readers might prefer something a bit more journalistic.
Who Will Get the Most Use Out Of It?
One drawback to this blog is that it seems fairly 'insider-y' - that is, many of the posts seem to assume that readers have a certain knowledge and familiarity with education topics. For example, there was recently a series of posts about 'EduCon', an annual education and tech conference. The write-ups related to this event have some information that is relevant to those who didn't attend the conference, but on the whole, I think you'd get more out of them if you had been there, or had a desire to attend.
This is not to say that I think that Digital Writing, Digital Teaching is uninteresting or too niche to be of value to a lot of people. It just doesn't have as broad an appeal as some of the other education tech blogs I looked at for this series. I think teachers, particularly English teachers, will get the most out of reading this blog.
This is the fourth and final article in a series about education technology blogs. Previously, the Techie looked at Digital Tweed, Generation YES and The Innovative Educator.
To continue researching, browse degree options below for course curriculum, prerequisites and financial aid information. Or, learn more about the subject by reading the related articles below: