Essential Tips for Choosing a Major
Determining what to study in college is typically a personal decision. If you're not sure, this article will discuss some ways to clarify your uncertainty for a clearer and focused way of choosing a major.

Essential Tips for Choosing a Major
One of the biggest challenges faced by new students is choosing a major. It's a decision that will affect your academic experience for the next four years, and it can have major repercussions for your life after school. Whether you've already decided on a career path or don't have a clue where to start, these tips may help you find your best subject.
Step 1: Get to know yourself.


What am I interested in? Selecting a major means committing to a lot of time to a single subject. It's crucial that you choose something that fits your interests and skills - not what other people think you should do. Most students start off uncertain about what to focus on, and it's easy to be influenced by well-intentioned family members or college counselors. Making lists is a good way to start exploring your own interests. Write down your hobbies and your passions. Don't worry about thinking in academic terms at first, just get what you love to do down on paper.
The next step is translating those interests into subjects you can study. Think back to high school - what subjects did you like? What ones were you good at? Then take a look through your school's catalog. This could help you start to see where your interests intersect with what the school offers. It can also be helpful to talk to a college counselor and check out tools like MyMajors.com, an online quiz that will help you match your interests to popular majors.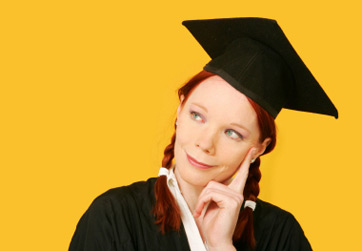 What are my goals? Many guides treat college like it's nothing more than job training, but I'll tell you a little secret: There's more to life than a career. Job planning is important, but it's up to you to decide if career preparation is the primary goal of your education. If it is, then it's important to define your career goals before you choose a major. This can help you find a major that will further those goals, whether it's through completing the right prerequisites for medical school or studying communications to launch a public relations career. However, it's also important to remember that there are typically many different majors for each career path. Don't force yourself into a subject you don't like just because you think it may get you a job.
If you're not ready to commit to a career, that's okay. A college education may provide you with other important life skills, including the satisfaction of studying a subject that you love. (All those English majors aren't actually going to end up becoming writers or professors, but it doesn't mean that their degrees won't be valuable.) If you can figure out your passions and set yourself realistic educational goals, you might even find that a career path will naturally unfold.
Step 2: Get to know your subject.


What does this major really mean? Now that you've matched your interests with a few subjects, it's important to get a feel for how those subjects actually fit into a course of study. ACT offers a really useful Map of College Majors that breaks down majors into 13 popular groups, including the topics they typically cover and the careers pursued by graduates. Your college's catalog should also be full of helpful information on the specifics of studying your chosen subjects at your school. And it's always good to talk to upperclassmen in your proposed field of study to get the inside scoop.
Do I enjoy the courses? A subject may sound interesting on paper, but if you hate the professors or don't enjoy the coursework, then it's probably not for you. Most colleges and universities don't require students to declare a major until sometime late in their sophomore years. This gives you lots of time to shop around and try out introductory courses in different areas. Just remember to also keep up with your school's general requirements during these first two years.
How strong is my school in this major? Just because an institution offers a major doesn't mean they do it well. Even the best schools have some departments that just don't have the resources to offer you a good education. Signs of a weak department include very few course offerings, only a couple of faculty members and professors without advanced degrees in their field. If you're uncertain, it can help to talk to students or alumni in the field.
What if I can't find my perfect major? Many students opt out of the traditional route to create their own paths of study. Some schools allow students to work with professors to design their own major from scratch. Other schools offer interdisciplinary majors that allow students to combine elements from many different subject areas. And some really ambitious students choose to double major. Be cautious before pursuing the last option - this typically means twice as many requirements and almost twice as much coursework. A less stressful alternative to double majoring is selecting a minor. You won't get a degree in your minor field, but it will still allow you to show an extra specialization.
To continue researching, browse degree options below for course curriculum, prerequisites and financial aid information. Or, learn more about the subject by reading the related articles below: