Finding the Right School: Colleges and Universities Across the Country Show Improvement in Student Satisfaction
The recently-released 2009 National Survey of Student Engagement (NSSE) suggests that the quality of undergraduate education in the U.S. is steadily improving as schools work hard to engage students in a variety of measures aimed at making postsecondary education more effective.

Schools Show Positive Trends in Student Engagement
Researchers at Indiana University have offered the NSSE (typically pronounced 'nessie') annually since 2000. Rather than simply focus on facts and figures provided by college administrators, NSSE asks students to report on a number of questions designed to measure how engaged they are in their studies. Although this isn't a direct measure of learning, research indicates that students who participate actively in their education are much more likely to learn.
In the ten years since it was first developed, the survey has transformed the way many schools measure success, shifting the focus from statistics to student experience. Although not all universities use the survey or take part in it every year, almost 1,400 schools have participated in NSSE at least once, with over 2.4 million students completing the questionnaire. Even Iowa University professor Stephen Porter, a vocal critic of NSSE who argues that the self-reported facts on the survey aren't reliable, admits that the influential project has become 'the pre-eminent survey of college students.'
In 2009, 360,000 students took the survey at 617 different institutions. The wealth of past material also allowed researchers to explore changes in student engagement, drawing from four to six years of data from over 200 schools that have participated multiple times since 2004. (The survey changed in 2004, so earlier data wasn't usable for a longitudinal comparison.) Key quality measures used to examine changing trends include the NSSE 'Benchmarks of Effective Educational Practice' (see below) as well as the percentage of students who participated in 'high-impact' activities such as study-abroad, service learning, research with faculty and learning communities. Their findings were extremely encouraging: 28% of colleges and universities exhibited positive trends on at least one measure for seniors and 41% did so for first-year undergraduates, with student-faculty interaction and active and collaborative learning showing the most improvement. These positive changes were found at all types of institutions measured by the survey.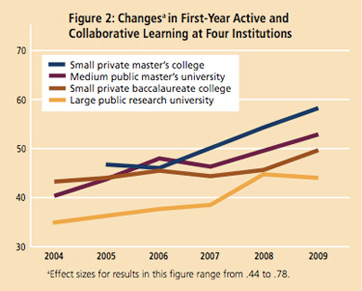 Positive trends in active and collaborative learning among first-year students at selected institutions. From the 2009 NSSE Annual Results, page 14.
Measuring Effective Education
The NSSE focuses on first-year students and seniors, two distinct undergraduate groups that typically have different needs and different experiences. In order to more accurately compare results across institutions, the survey also utilizes the eight Basic Carnegie Classifications of Institutes of Higher Education: research universities with very high research activity (RU/VH), research universities with high research activity (RU/H), doctoral/research universities (DRU), large master's colleges and universities (Master's L), medium master's colleges and universities (Master's M), small master's colleges and universities (Master's S), baccalaureate colleges that specialize in arts and sciences (Bac/A&S) and baccalaureate colleges that offer diverse fields (Bac/Div).
Utilizing data from 42 key questions on the NSSE, researchers have developed five 'Benchmarks of Effective Educational Practice' that are at the core of school evaluations. The survey's authors note that 'these student behaviors and institutional features are some of the most powerful contributors to learning and personal development.'
1. Level of Academic Challenge (LAC): This benchmark measures the degree to which schools promote high levels of academic achievement through certain activities and conditions, such as time spent preparing for class, amount of assigned reading, length and number of written reports and a campus environment that promotes studying. The LAC also looks at the degree to which challenging tasks are emphasized in coursework, including theoretical analysis, synthesizing ideas, evaluating information and applying theoretical concepts to practical problem solving.
2. Active and Collaborative Learning (ACL): Emphasis on this benchmark is based on the evidence that students learn much more effectively when they're strongly involved in their education. Key activities measured in ACL include speaking and making presentations in class, collaborating with other students both inside and outside of class, tutoring other students, participating in community-based projects and discussing ideas from coursework with people other than classmates, such as family members or co-workers.
3. Student-Faculty Interaction (SFI): Interacting closely with faculty gives students the opportunity to experience first-hand how scholars engage in problem solving and can help them form important role model and mentor relationships. Activities used to measure SFI include talking about grades and assignments with instructors, receiving prompt written or oral feedback on assignments, working with faculty on a research project, discussing career plans with faculty or an advisor, working with faculty on committees or other activities outside of coursework and discussing ideas from readings or coursework with other faculty outside of class.
4. Enriching Educational Experiences (EEE): A crucial part of engaged learning is participating in educational opportunities outside of the classroom. Key aspects of the EEE benchmark include using educational technology and participating in field activities such as internships, volunteering, studying abroad, co-curricular activities, foreign language coursework, independent study or self-assigned majors, capstone senior experiences and learning communities. Other important measures focus on creating an institutional climate that encourages social interaction among diverse groups, such as talking with students of a different race or ethnicity and/or different religious beliefs, political opinions or values.
5. Supportive Campus Environment (SCE): Student performance improves when they can sense that their institution is committed to their success. Key conditions that cultivate a supportive campus environment include providing academic support, helping students cope with non-academic responsibilities such as work and family and offering social activities and support. Other measures of a successful SCE include the quality of inter-student relationships, the quality of students' relationships with faculty and the quality of students' relationships with administrative personnel.
Understanding and Utilizing the NSSE Scores
Choosing the right school for your undergraduate education can be overwhelming--there are a million things to consider, from school size to academic reputation to social life and beyond. Popular rankings from publications like the U.S. News and World Report and The Princeton Review can offer factual answers to many of these questions, but most lists don't capture the less tangible qualities evaluated by the NSSE.
The annual report published by the University of Indiana doesn't include results by individual school. However, the researchers have worked with USA Today to offer this information as a resource for prospective students. Not all schools are willing to publish their data, but results from those who do are available in a searchable database on the USA Today website.
The magazine offers a few tips on how to make the most of the NSSE scores. The most important thing to remember is to compare like with like. This applies both to type of student and type of school. If you're an incoming freshmen you'll want to focus only on the first-year student results. If you're preparing to transfer, the senior results might be more relevant to your experience. Even more significant are the differences between types of school. A large research university will probably score lower overall on measures of student engagement than a small baccalaureate institution because more students are commuters. In order to help students make a more accurate comparison, USA Today shows the average score in each category for the relevant type of school next to the individual school's score.
It's also important to remember that college is not a one-size-fits-all experience. Focus on the benchmarks that represent activities that are most important to you. And, of course, remember that no ranking system represents the final word - it's important to gather information from many sources, including a school visit, before you make your final choice.
For your reference, the table below offers the average score for each 'Benchmark of Effective Educational Practice' by type of school. The score in bold is for first-year students. See above for an explanation of the abbreviations.
| Type of Institution | LAC | ACL | SFI | EEE | SCE |
| --- | --- | --- | --- | --- | --- |
| RU/VH | 54.3 56.6 | 41.3 48.6 | 32.4 40.7 | 30.1 44.0 | 60.5 55.9 |
| RU/H | 54.3 56.9 | 43.0 50.5 | 33.4 41.7 | 28.8 42.3 | 61.1 56.9 |
| DRU | 53.8 57.1 | 42.9 51.8 | 34.9 42.0 | 28.1 40.7 | 61.2 58.1 |
| Master's L | 53.8 57.6 | 43.8 52.2 | 35.4 42.7 | 27.6 39.8 | 62.9 60.1 |
| Master's M | 54.1 58.0 | 45.2 53.6 | 36.0 44.3 | 27.6 41.6 | 63.9 61.6 |
| Master's S | 54.0 57.9 | 45.2 54.4 | 36.6 45.6 | 27.5 41.8 | 64.3 63.1 |
| Bac/A&S | 58.5 62.1 | 46.5 54.3 | 38.7 52.0 | 31.9 54.1 | 67.3 64.2 |
| Bac/Div | 53.5 57.9 | 44.9 53.9 | 37.3 46.4 | 27.5 41.8 | 64.5 62.5 |
To continue researching, browse degree options below for course curriculum, prerequisites and financial aid information. Or, learn more about the subject by reading the related articles below: