Online Brain Training Resources: Lumosity Reviewed
The Education Techie reviews tech tools that can help students and teachers. This week, the Techie is taking a look at brain training resources. Today's review: Lumosity.
What Is It?
Lumosity provides users with brain training games and exercises that are designed to improve cognitive function in areas like memory, focus and processing speed. Neuroscientists designed the program that Lumosity uses, and the site has a scientific paper that attests to the program's effectiveness. Adding further support to claims of validity, Lumosity is partnered with such academic institutions as Stanford University and the University of California, San Francisco. In order to use Lumosity, you need to register for an account.
When you create an account, you are asked to give information like gender, age and education level. After answering those questions, you're asked to address another set of questions that further categorize your needs. These ask about your primary training objective (IQ boost, work or performance improvement, fun, etc.) and whether you're going to be taking a standardized test (SAT, GRE, LSAT, MCAT, etc.) in the next year, among other questions. The program says that this information is intended to give you the best exercises for your needs and abilities, but you can also opt to fill questionnaires out at another time.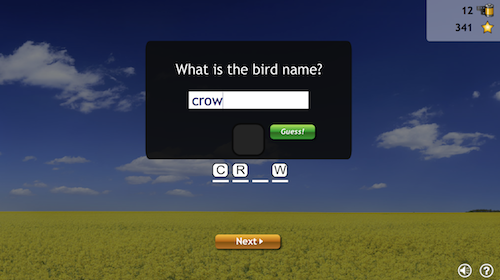 The games and exercises are cleanly designed with colorful, but not garish, details. Before you start an activity, you are given an explanation of the skills it is designed to improve. For example, a game called speed match features an introduction explaining how it can aid information processing and increase reaction time. According to Lumosity, these skills can help to improve driving or prepare for a fast-paced job. This particular activity included arcade-style sound effects, but those can be turned off. The instructions for the game were simple and easy to understand, and at the end, I was given a report detailing my accuracy.
After I signed up for my account, this game was assigned to me along with memory and attention-honing games (pictured above) for a first training session. This session was free; use of Lumosity after this three-game free session requires a fee. You can pay $14.95 for a monthly subscription, $6.70 a month for a yearly subscription, $4.99 a month for a two-year subscription or $299.95 for an unlimited lifetime membership.
What Are Its Pros and Cons?
I had fun playing the three games in the free trial session. They were surprisingly challenging, though not so hard as to be impossible to play. The games also did test the skills described, and though I can't say whether my cognitive abilities would really improve due to playing them, they certainly do require some brain power. The activities are also more entertaining than what you might assume. They manage to be colorful and fun without being juvenile, and I think that's a big plus for adults.
I considered buying myself a year membership when I finished the trial, but I was pretty surprised by how expensive it is. While $6.70 a month doesn't seem like a lot, I don't think I'd use Lumosity that much over the course of a year. To me, the expense doesn't seem justified, especially since it's so hard to say whether you actually will get lasting cognitive benefits from the program. However, if you really like playing games online, and you're a big fan of puzzles that make you use your brain, you might find Lumosity's price justifiable. At the very least, you should take advantage of the free trial to see if it's something you like.
Feeling like you could use a little brain power boost? Stay tuned for the rest of the Education Techie's reviews of brain training resources this week!