Online Brain Training Resources: My Brain Solutions Reviewed
The Education Techie reviews tech tools that can help students and teachers. This week, the Techie is taking a look at online brain training resources. Today's review: My Brain Solutions.
What Is It?
My Brain Solutions provides brain training games and exercises through its website. In order to use the site, users have to register for an account. You can get a basic membership for free, and a premium membership is $9.95 a month.
Though the basic membership never expires, it's really more of a free trial than an actual membership. Most of the site's features have to be 'unlocked' by upgrading. I registered for a basic account for this review. When registering your account, you are asked questions like gender, years of education completed and whether your dominant hand is the left or right. This is not optional, and it is explained that this information will be kept confidential. According to the program, the reason for asking these questions has to do with comparing your results with those of a similar profile in order to give you the most accurate assessment of your abilities.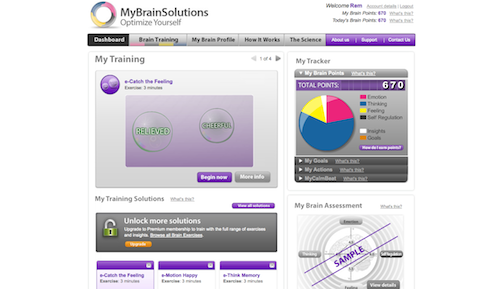 My basic registration gave me access to four games. Most of the activities were arcade-style, and all were presented with bright graphics and accompanying sound effects that can be muted. Of the four games, one focused on identifying positive emotional words, another required me to click on the one smiling face out of a group of faces, and a third was a basic matching memory game. The fourth was more of an exercise than a game, requiring me to breathe at a specific pace. Overall, I thought the games were more silly than challenging. I didn't feel like I exercised any part of my brain, other than very basic skills that I've been using since I was a child.
Along with access to these games, my registration gave me access to a dashboard (pictured above) that tracks progress with the program. The dashboard points you to new games to play, and also features a pie chart that shows how many 'brain points' you've earned. These points simply track what areas you've been exercising with the games you've played. Categories tracked include emotion, thinking, feeling, self-regulation, goals and insights. There is also a personalized 'brain assessment' in the dashboard, but this feature is only available to premium members. According to the site, the brain assessment is used to recommend areas of improvement and tailor your training program to your needs.
Like Lumosity, there is some science behind My Brain Solutions. The site doesn't advertise any affiliation with an educational institution, but it does provide published scientific evidence meant to back the effectiveness of its methods. The program operates on an integrative neuroscience platform and identifies the areas of thinking, feeling, emotion and self-regulation as four key aspects of cognitive function. These are the primary areas exercised by the site's features.
What Are Its Pros and Cons
My Brain Solutions features a clean design with a simple, user-friendly interface. It was very easy to jump right in and begin using the site. I appreciate that the basic membership doesn't expire, but really, you'd need to pay to take advantage of what the site has to offer. Though I reviewed totally free online brain training resources for this series, I think the ones requiring payment are the best. And compared to the price of the other paid brain training resource, Lumosity, My Brain Solutions is a good deal.
Overall, though, if I was going to pay for a membership to one of these sites, I don't think I would choose My Brain Solutions. I didn't particularly care for the site's games, and I didn't really feel mentally stimulated by them. This may be because of their focus on emotion, rather than on puzzle-like challenges that require logical reasoning. This type of game was unique among the resources I reviewed. With this in mind, some people might prefer My Brain Solutions to the others.
This is the final review in a series on online brain training resources. Previously, the Techie reviewed Lumosity and Brain Metrix. Stay tuned for more articles and reviews from the Education Techie!