Online Brainstorming Tools: SmartDraw Reviewed
Each week, the Education Techie reviews tech tools that can help students and teachers. This week, the Techie is discussing brainstorming tools. Today's review: SmartDraw.

What Is It?
SmartDraw is a downloadable program that emphasizes the use of images to communicate ideas. The program seems to be aimed at businesses, but teachers and students could also use the program for lectures, study guides, class projects and papers. SmartDraw offers a 30-day free trial; it is available for purchase for $297.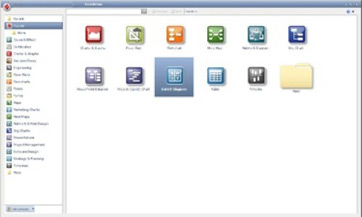 When you open SmartDraw, you are given a prompt that allows you to choose from templates like org charts, mind maps, flow charts, floor plans, SWOT diagrams, tables, timelines, marketing charts, flyers, forms, maps, certificates and more. You can also create or import a new template category. I decided to create a flowchart to test this program. Users can control the color theme of flowcharts either manually or by selecting from the theme templates. They can also control effects like shadow, reflection, glow, bevel, gloss and perspective on flowchart images. The interface is fairly straightforward, though I think users would need to study up on the program to really take advantage of everything it has to offer.
What Makes It Cool?
Of all the brainstorming tools that I reviewed this week, SmartDraw has the widest range of template types. Some of its more unique offerings include crime scene, science, vehicle and puzzle piece diagrams. The program also offers users some of the greatest aesthetic control among the products I reviewed. It also has plenty of options for automation, both aesthetically and in terms of actually making the images.
What Are Its Drawbacks?
SmartDraw is pretty versatile, and I thought it was one of the better such programs that I looked at. However, its cost is on the higher side for brainstorming tools. Some users might find this cost worthwhile, though, because of the wide range of tools and templates the program offers. SmartDraw is also only available for computers that run Windows, so Mac and Linux users may not be able to use it.
Where Can I Find It?
Click here to access SmartDraw's free trial.
The Education Techie will continue to review brainstorming tools this week and next. Check back for these product reviews, and don't forget to read reviews of Gliffy, Inspiration and Mindjet's MindManager.
To continue researching, browse degree options below for course curriculum, prerequisites and financial aid information. Or, learn more about the subject by reading the related articles below: