Online Brainstorming Tools: Visio Reviewed
Each week, the Education Techie reviews tech tools that can help students and teachers. This review of Microsoft Visio is the Techie's last in a series on brainstorming tools.
What Is It?
Microsoft Visio is a program that typically appears in Microsoft's Office Suite. You can use the program to make charts and diagrams. Microsoft Visio includes templates organized into categories like business, engineering, maps and floor plans, schedules, software and database, network and flowcharts. You can also start with a blank slate and make charts and diagrams according to your own specifications. Users are given a variety of shapes to use and they can control features like font, color and layout.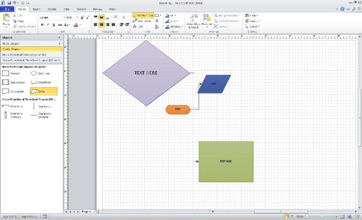 Microsoft Visio is available in standard, professional and premium editions of Office Suite. I used the premium version for this review. You can purchase Visio separately from the rest of the Office Suite if you don't want or need programs like Word or Excel. If you're not sure if Visio is the right program for you, you can sign up for a 30-day free trial at Microsoft's website. If you want to purchase the program through Microsoft, you can get the standard edition for $249.99, the professional edition for $559.99 and the premium edition for $999.99.
What Makes It Cool?
In the premium version, users have a wide range of controls and options. If you really learned the program and how to use its tools, it seems like it could be very versatile. Visio also has a thorough help section, and users can access an online database of additional templates. Additionally, because Visio is part of the Office Suite, you can take classes and training seminars in how to get the most out of the product. A Microsoft-certified third party often offers these classes.
What Are Its Drawbacks?
As compared to the other brainstorming tools that I reviewed, Visio's graphics aren't at the top of the heap. Since you have to pay for this service, I consider this a distinct drawback. Users don't have the kind of aesthetic control that is offered in some other programs. The cost of each version of this program was also significantly higher than any of the other brainstorming tools I reviewed.
Where Can I Find It?
Check out Microsoft's description of the product and look into getting a free trial by clicking here.
This review concludes the Education Techie's series on brainstorming tools. Don't forget to read reviews of Gliffy, Inspiration, Mindjet's MindManager, SmartDraw and Google Docs Drawing.