Online Language Tutorials: Internet Polyglot Reviewed
Each week, the Education Techie reviews tech tools that can help students and teachers. This week, the Techie is reviewing language learning tools. Today's review: Internet Polyglot.

What Is It?
Internet Polyglot is a free web-based tool featuring lessons in a wide variety of languages. Signing up for an account allows you to create exercises, evaluate others' work, get your lessons graded, and keep track of game scores. This program has features that complement classroom foreign language learning; teachers can develop lessons within Internet Polyglot and share them with students.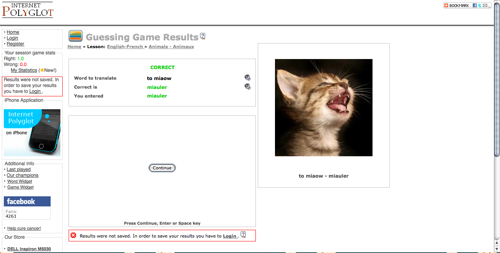 The range of languages offered by Internet Polyglot is one of the widest among the learning tools I reviewed. The site has commonly available options like Spanish, French, Italian and Chinese. More rarely found language instruction in Catalan, Esperanto, Estonian, Chechen, Swahili and Slovak is also available. Lessons are arranged into subject categories like human characteristics, animals, money and shopping, numbers and profession. Tutorial slide shows within categories feature vocabulary along with pictures and audio pronunciations. The lessons also contain matching, typing and guessing games to test your knowledge of terms.
What Makes It Cool?
I like that all of Internet Polyglot's tools and features are free. There's also an iPhone app for mobile access. Though the site has some limitations, Internet Polyglot is upfront about what its capabilities and intentions are. I think the fact that the program offers access to such a wide range of languages is the site's biggest plus.
In addition to these features, Internet Polyglot offers two free widgets that you can put in your blog or website for visitors. The game widget is a simple word-matching exercise that allows users to test vocabulary skills in a variety of languages. The word widget displays a random foreign word every day and provides audio pronunciation.
What Are Its Drawbacks?
Internet Polyglot is not designed to be used on its own for language acquisition; it's best used to supplement formal lessons or self-guided activities like reading. The site doesn't feature a slick design, as did other language learning tools I reviewed, and its social networking capabilities are limited to sharing lessons.
I think this would be a good tool for students who want some additional help with memorization. It's not the right product for people who are only beginning to learn a language.
Where Can I Find It?
Sign up for an account or peruse lessons on Internet Polyglot by clicking here.
This is the third in a series of reviews of language learning tools. Previously, the Techie reviewed Babbel and Mango Language. Tomorrow, the last review of the series will be published. Stay tuned for more reviews from the Education Techie!'
To continue researching, browse degree options below for course curriculum, prerequisites and financial aid information. Or, learn more about the subject by reading the related articles below: