Online Language Tutorials: Mango Language Reviewed
Each week, the Education Techie reviews tech tools that can help students and teachers. This week, the Techie is reviewing language learning tools. Today's review: Mango Languages.
What Is It?
Mango Languages offers lessons in English, Asian languages (like Vietnamese and Japanese), Middle Eastern languages (including Hebrew and Farsi) and European languages (such as French and Italian). There are a total of 17 languages offered. The program operates on what is referred to as 'intuitive language construction.' This teaching method focuses on vocabulary, pronunciation, grammar and culture as the four main components for learning a foreign language. The topics covered in lessons focus on conversing in restaurants or shops and making polite small talk rather than real fluency.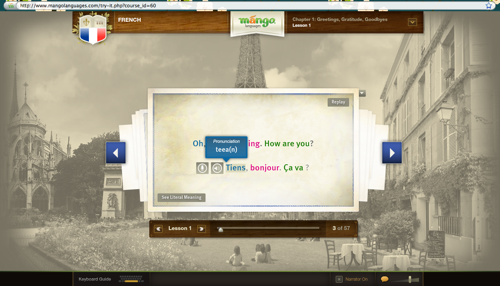 You can try the first lesson in any language for free. After that, you will have to purchase the program, which is called Mango Passport. The free demo lesson takes place in your web browser online, but the rest of the program is downloadable. In addition to the software, you can purchase an audio-only program for MP3 players. These are priced as a bundle for $200, or separately, with the software at $150 and the audio at $100.
The lessons focus on practical vocabulary for travel, and conversation is emphasized more than reading and writing. There is a focus on pronunciation, with phonetic pronunciations displayed when users hover over words with a cursor. All lesson narrations are performed by a native speaker possessing the most generic dialect and accent from a particular language. There is a sort of organic approach to teaching grammar, which Mango describes as 'stealth grammar.' Grammar and vocabulary are taught together rather than as separate components.
What Makes It Cool?
In addition to offering educational services for individuals, which I focused on for this review, Mango Languages offers specialized versions for libraries and schools. There is also a government edition targeted toward military personnel. These special editions cover a wider range of languages and offer English classes for speakers of specific languages, such as English for Arabic speakers and English for Korean speakers.
I also appreciate Mango Languages' emphasis on speaking. It's one thing to know native vocabulary in a foreign country, but if no one can understand what you're saying, it's not really that much of an asset. Mango offers multiple tools that emphasize pronunciation, including two speeds of narration, one in the native conversational cadence and one drawn out to emphasize enunciation.
What Are Its Drawbacks?
Unlike the other language learning tools I reviewed, Mango Languages doesn't have any social networking or community interactivity capabilities. With the other products I looked at, many features were free; all of Mango's content is paid. And while I think Mango Languages' four-part approach is a great idea, I don't think that people who want to gain true reading, writing and speaking fluency in another language will get what they need from this program alone. The program may be best used for recreational or personal development purposes rather than for academic preparation.
Where Can I Find It?
Follow this link to learn more about Mango Languages and try a demo lesson.
This is the second in a series of reviews of language learning tools. Previously, the Techie reviewed No InterWiki reference defined in properties for Wiki called "Babbelhttp"!. The Education Techie will continue to review language learning tools this week.'