Online Notetaking Tools: Springnote Reviewed
Each week, the Education Techie reviews tech tools that can help students and teachers. This week, the Techie is reviewing notetaking tools. Today's review: Springnote. Schools offering Paralegal degrees can also be found in these popular choices.

What Is It?
This program is a completely free, Web-based application that provides a blog-like platform for users to keep track of content. Springnote allows you to organize notes by notebook, which can be configured for individual or group use. You can share your personal notebooks with others. The people who you allow to view your personal notebooks can comment on them and subscribe to an RSS feed for specific notebooks. Users can also follow other people's notebooks by adding them to a watch list.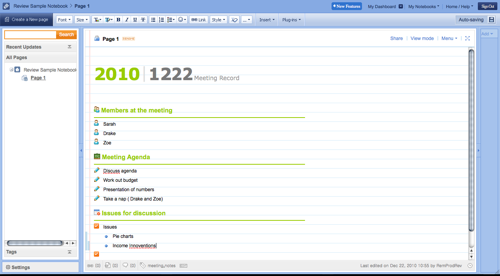 The program's starting point is a dashboard with tabs that allow you to create and access your notebooks, see your watch list, check your message inbox, look at notebook comments and see an overview of your account. When you start a new notebook, you can insert media including videos, photos and text files. You can also import files, control text appearance, make lists and send pages from your Springnote notebooks to your blog. The notebook also gets a unique URL of your choosing, so you can share it with others. Notebooks can also be tagged for easy organization and searching.
Why Is It Cool?
Springnote features a thorough introduction to its features, including a photo and text overview and how-to videos. It also has a wide array of sharing and collaboration tools that aren't available on some of the other notetaking programs that I reviewed for this week. I also like that it provides a lot of features for no cost.
One of the things that I liked about this particular program is its design and interface. Everything is cleanly and attractively designed, but the program still manages to display a lot of navigation and editing tools in tabs and sidebars. It's a good balance of aesthetic simplicity and practical functionality. Of the more complex and versatile notetaking programs I reviewed, I think Springnote is one of the best at providing a lot of features without seeming to go overboard.
What Are Its Drawbacks?
Springnote is not available on a variety of platforms, and it does not currently offer a mobile application. And though there are no limits to the number of notebooks you can create, each notebook itself is limited to 2 GB. Other than these limitations, I didn't see any major drawbacks to the program. Like some other more versatile programs, though, this might be more than you want if you just need a place to take and keep track of notes.
Where Can I Find It?
If you want to use Springnote, click this link to check it out.
This is the fourth in a series of reviews of notetaking tools. Previously, the Techie reviewed MyNoteIt, Evernote and Ubernote. The Education Techie will continue to review notetaking tools this week.
To continue researching, browse degree options below for course curriculum, prerequisites and financial aid information. Or, learn more about the subject by reading the related articles below: