Online Reading Communities: BookMooch Reviewed
The Education Techie writes about tools that can help students and teachers. This week, the Techie is reviewing online reading communities. Today's review: BookMooch.

What Is It?
BookMooch is an online community that enables book trading. If you become a member of BookMooch, you can go through your personal library and find some books you're willing to part with. Then you enter them into the program, and if someone wants any of your books, you earn a point. Points are the basic currency of the system, and you can earn them not only by giving a book away, but also by just entering books into the site's inventory. Each book you enter gives you a tenth of a point, so you can earn a whole point by entering in ten books that you're willing to part with.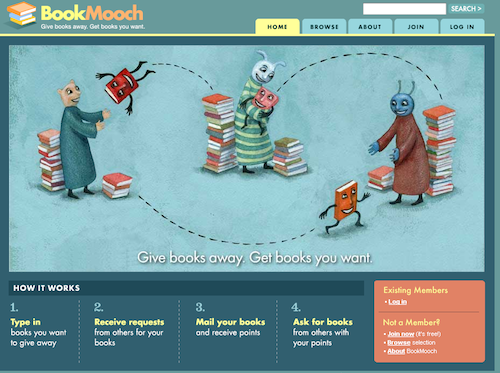 Once you have at least one full point, you can start requesting books from other users. Just as giving a book earns you one point, getting a book costs a point. The offerings on the site are extensive - BookMooch has more than 25,000 members with books to give and more than 35,000 books in its inventory for giving. There are a lot of categories too, including religious literature, science fiction, nonfiction, children's books and graphic novels.
There are other functions on the site, including a wish list feature that allows you to compile books you want in a single place. When a book on your wish list is posted into the system, you get an e-mail notification alert so you can log in to request it. The interface on the site is straightforward and easy to use, so if you're willing to part with some of your library in exchange for new material, you might want to give BookMooch a try.
What Are Its Pros and Cons?
I think that BookMooch is a really great idea. It's a really clever way to make use of social networking technology, and the community that is formed by a service like this is much more focused than social networks like Facebook. Instead of just creating a profile for entertainment, you're engaging in a social network that ends up providing a tangible benefit to those who use it properly.
Aside from its great concept, I like BookMooch's system. It's cost-free - all you need are books that you're willing to trade. The one-to-one give a book, get a book point system is great way to ensure fairness. And even if nobody takes a bite at the books you have to offer, you can still work up to a point by adding books to the system. To me, the fact that you have to be willing to give in order to get is what helps make the system a community. Another big plus for the points system is that you can donate your points to charities like children's hospitals and foreign literacy efforts.
Another aspect of fairness that makes the system work is the fact that you can leave feedback for the other BookMoochers you interact with. That way, if someone is particularly difficult to deal with, or if they send you a really beat up book, you can let the community know. Alternately, you get rewarded for being a team player. This feature can help you use the system with confidence, knowing that you have some recourse if you feel like another user treated you unfairly. The system works, and it has the numbers to back it up; more than 3,000,000 books have been 'mooched' since it started.
This is the second in a series of reviews on online reading communities. Previously, the Techie reviewed Goodreads. Stay tuned for more of these reviews this week!
To continue researching, browse degree options below for course curriculum, prerequisites and financial aid information. Or, learn more about the subject by reading the related articles below: