Online Test Prep Resources: 4Tests Reviewed
Each week, the Education Techie reviews tech tools that can help students and teachers. This week, the Techie is reviewing test prep resources. Today's review: 4Tests.
What Is It?
A free online service, 4Tests provides study help for a wide variety of standardized tests. The site lists its top five most popular tests as the GED, the TOEFL, the SAT, the ACT and the NCLEX. In case you aren't familiar with these exams: The GED is a high school equivalency test, the TOEFL is an English proficiency exam, the SAT and ACT are college entrance tests, and the NCLEX is a professional nursing exam often required for nursing licensure. This diverse range of tests gives good insight into the diversity offered by this website.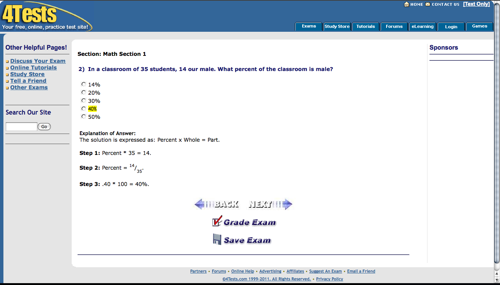 The content on 4Tests is arranged into categories, including exams, tutorials, discussion forums and a study store. The study store provides links to official study guides and other exam texts, and allows you to compare prices among stores. The website also includes links to many tests' official websites, allowing users to register and take a practice exam without navigating away from the site. If you click on a link that goes to another site, 4Test's menu bar stays at the top of your screen.
I clicked into the SAT practice exam to see what materials are offered. There is a brief description of the test, along with links to additional study materials. The exam itself is presented in very bare-bones fashion, with little introduction or guidance. There is an option to view the correct answer, and a brief explanation is given. Other than that, the practice tests are self-guided.
What Makes It Cool?
Instead of just focusing on school entrance exams like the GRE, ACT or SAT, 4Tests offers practice tests for a wide range of professional and educational exams. The site covers the widest variety of exams among test prep resources that I reviewed for this series. In addition to professional and educational test prep, 4Tests also offers practice opportunities for computer exams, like Microsoft Certified Systems Engineer (MCSE) exams and the Armed Services Vocational Aptitude Battery (ASVAB) exam.
It is variety that helps 4Tests stands apart from the other study tools I looked at. The site offers much more than just test prep. For example, in addition to providing practice exams, 4Tests also hosts discussion forums that are categorized by test. All of these resources are free.
What Are Its Drawbacks?
The downside of the variety offered by 4Tests is the possibility that some may be distracted. In addition to practice exams for standardized tests, there are novelty quizzes on topics like TV trivia. Games are also available on the site, and while some of them could be tangentially related to the skills you'd need for a standardized test, they probably aren't the best use of time for a student who needs to prepare for a big exam like the SAT or GRE.
Another drawback is the website's design. It isn't very intuitively organized, and the interface can be cluttered and hard to process. This isn't a major issue, but it is definitely noticeable. I think the design could use improvement, but that flaw doesn't make the site less useful.
Where Can I Find It?
Visit 4Tests.com to see if it has resources that can help you prepare for an upcoming standardized test.
This is the third and final review in a series on test prep resources. Previously, the Education Techie reviewed Number2 and The Study Hall. The Techie will continue to review educational tech products in the coming weeks. Stay tuned to read more!