Tech Resources for Black History Month Lessons: The Civil Rights Movement
The Education Techie writes about tech tools that can help students and teachers. In February, to honor Black History Month, the Techie will be compiling digital resources useful toward creating lessons for this observance. Today's article focuses on the Civil Rights Movement. Schools offering Gender Diversity Studies degrees can also be found in these popular choices.

The Civil Rights Movement in the U.S. typically refers to a specific period of social activism from the mid-1950s to the late 1960s. Though many would agree that the push for civil rights is far from over, the steps taken and the gains made during this time, including the end of racial segregation and the granting of full voting rights to black U.S. citizens, mark a historically significant period. Any discussion of U.S. history would be incomplete without a discussion of the Civil Rights Movement.
Though this period should be discussed as part of a normal history curriculum, Black History Month provides an opportunity to look in-depth at the people, events and social climate that shaped this important historical period. There are a lot of online resources for information on the Civil Rights Movement. Here are a few that I found particularly interesting.
Teaching Tolerance from the Southern Poverty Law Center
The Southern Poverty Law Center (SPLC) is a nonprofit civil rights group dedicated to fighting intolerance through legal action, education and community outreach. Part of the SPLC's educational mission is manifested in the Teaching Tolerance project, which includes classroom materials and lesson planning tips for teachers. Among the resources on the Teaching Tolerance site is a free biannual magazine that can help you incorporate lessons on diversity and civil rights issues year-round. Most of the resources on this site are appropriate for middle grades and high school student, but some elementary school teachers may find useful information here as well.
In addition to the magazine, teachers can also order free videos from the site. These videos touch on a variety of civil rights topics from the past and present. Of particular relevance to the Civil Rights Movement of the mid-twentieth century are two videos in the 'Mighty Times' series - one focusing on the Birmingham Children's March of 1963 and another about Rosa Parks' legacy. Curriculum guides are available for these videos. There is also a classroom guide for teaching black history topics. You can access the main page of Teaching Tolerance by clicking here, and you can access the curriculum guide for black history instruction by clicking here.
Pirkle Jones and Ruth-Marion Baruch's Black Panther Photographs
From July-October of 1968, Ruth-Marion Baruch and Pirkle Jones photographed members of the Black Panther Party in the San Francisco Bay Area. Jones and Baruch, a white married couple, began the series in an effort to show a more human side of the Black Panther movement. The series features pictures of the Panthers in protest, but also at rest with their families. These images are an important historical record of a part of the Civil Rights Movement that has been widely misunderstood throughout history. Though the subject matter is somewhat controversial, these images, and the history they represent, are appropriate for high school students.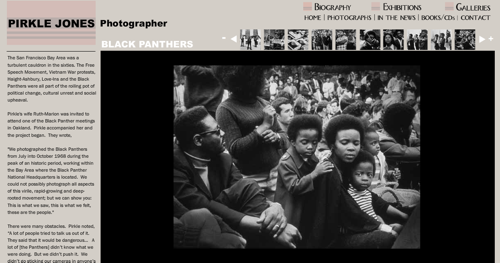 The images of Jones and Baruch are frequently exhibited in college and university art galleries, and you may be able to set up a class field trip to view them. The couple also published photos in the book, Black Panthers 1968, which you can check out from your local library. Additionally, Jones' website offers digital copies of the photos. And you can click here for explanatory text of the photographs from a February 2011 exhibit at North Carolina State University.
Veterans of the Civil Rights Movement
This site is a great resource for photographs and information about the Civil Rights Movement. There is a timeline with specific historical events, like the Freedom Rides and landmark integration dates. Narrative details are given for events along with personal statements from people who were there. The page is a bit hard to navigate, so this may be a better source of information for teachers and older students than a place to direct younger kids. Even so, the information contained on this site is definitely worth checking out. Click here for the site's homepage.
For an account of the Freedom Rides told by a veteran of that event, click here. That link goes to the site of David Frankhauser, a biology professor at U.C. Claremont College. Frankhauser was a member of the Freedom Riders group. He tells his story, accompanied by photographs, on the site.
Stay tuned throughout the month of February for more Education Techie articles about digital resources for Black History Month lessons.
To continue researching, browse degree options below for course curriculum, prerequisites and financial aid information. Or, learn more about the subject by reading the related articles below: