Texas Schools Use Videoconferencing to Bring Rural Students Together
For many rural public schools, lack of funding and geographical isolation makes it difficult to provide a complete education for their students. In Texas, one organization is helping 19 institutions overcome this challenge through new technology that will be purchased with a rural development grant.

New Technologies Create Educational Opportunities
Many K-12 schools rely on sharing resources to deliver the best education possible. Whether that involves offering a joint academic program or simply letting students take classes across institutions, such collaborations rely on physical proximity and communication technologies.
These relationships are even more important for rural schools, many of which lack the funding for a broad range of academic resources or even enough teachers. Together they can provide a more complete education for their students, yet long distances and underfunded technology programs can make it difficult to maintain such connections.
Now 19 schools in rural Texas have found a solution to this problem. Spread across 14 different school districts, most of these schools are small and underfunded. They rely on the Education Service Center (ESC) 12 based in Waco, TX to deliver student development and project opportunities, as well as dual enrollment programs with local community colleges to help make up for their lack of resources. Yet geographic isolation makes it difficult for students to drive to the colleges and education centers.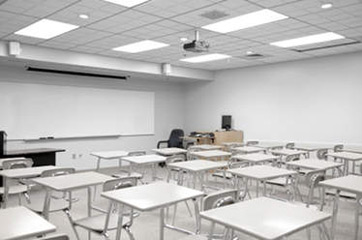 Enter the rural development grant. The ESC recently secured over $490,000 to purchase videoconferencing equipment that will help link the 6,200 students in these organizations with their services. Many of these students already participate in videoconferences to receive instruction from both the ESC and the community colleges. But out of date technology has made it more and more challenging to get the latest coursework out via video feed. Some of the equipment is so old that it can't handle high definition, making it nearly impossible for students to actually see their instructors or their presentations.
The rural development grant, which will be partially matched by district funds, will help the ESC get new equipment out to these institutions. The organization is currently shopping around for a variety of new technologies, including flat panel TV monitors on mobile videoconferencing carts and a high definition bridge for the ESC headquarters that will allow the center to conduct HD calls with all 14 districts.
The new videoconferencing tools will also open up international educational opportunities for the students. The ESC is linked up to organizations in several other countries, including the Dominican Republic, Costa Rice and Canada. The new technology will allow these rural students to participate in these projects and get exposed to a whole world of education and ideas.
Grant monies will also be used to bring many of the rural schools' classrooms into the 21st century. Schools will receive laptops, document cameras, DVD players and even multi-user interactive whiteboards.
Learn about educational innovations in public school classrooms throughout the country.
To continue researching, browse degree options below for course curriculum, prerequisites and financial aid information. Or, learn more about the subject by reading the related articles below: