Wolfram Tools Online: Alpha Reviewed
The Education Techie reviews tech tools that can help students and teachers. This week, the Techie is taking a look at tools from Wolfram Research. Today's review: WolframAlpha.

What Is It?
Named by Popular Science as the greatest computer innovation of 2009, WolframAlpha is a 'computational knowledge engine.' Its format and interface are similar to those of a search engine; you type something into a search bar, and the program produces results based on that query. But unlike a search engine such as Google, this program is designed to give you answers and data, rather than links to websites that may or may not be relevant.
Users can enter linguistic queries and mathematical computations into Alpha. Since I'm not exactly a math scholar, I decided to stick with words. My first experiment was to search for 'macaroni and cheese.' The results of this search (pictured below) were based on the assumption that I was looking for the food called macaroni and cheese. Alpha also gave me the option to treat it as a color or a word. As a food, my results were based on a macaroni and cheese dish at a popular chain restaurant. I was given full nutrition data for this dish, in addition to a breakdown of the nutritional values contained in that data, such as its ranking of sodium, protein and dietary fiber content among other foods. I wasn't given recipes or pictures of mac and cheese - just data.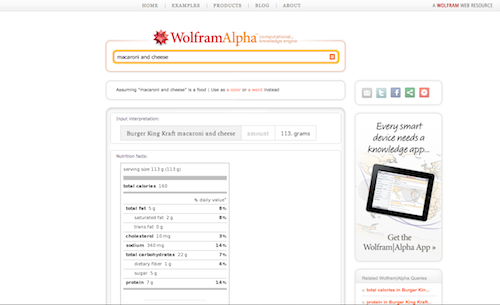 This is typical of the kind of information you can get using WolframAlpha. Another search I tried, for 'Polaroid,' gave me a breakdown of how the word is used, including its total Scrabble value (though, as the results noted, it's not a valid word for Scrabble, since Polaroid is a proper noun). It took me a lot less time to get useful results out of Alpha than it did in similar searches of Google and Wikipedia.
Alpha is free and ready to use with no registration. It's also available through apps for Android, iPhone and iPad. And if you find a 'fun fact' through your use of the program, you can tweet it to @WolframFunFacts.
What Are Its Pros and Cons
When compared to other search engines, Alpha definitely stands out as unique. If you're looking for specific information about something, or you need help completing a calculation, Alpha is a great tool. It's a great one-stop place for interesting data. I had fun playing around on it for a while, and it certainly has practical applications as well. Plus, if you use Mathematica, there is a plugin for Alpha in that program.
I appreciate the fact that, unlike some other search engines, Alpha gives you data and information rather than links that may not be very useful. Instead of sifting through linked results, you can look at the results you're given and quickly decide if they're relevant. The fact that the program tells you how it interpreted your query and offers suggestions for other interpretations helps to make the search results even more targeted to your needs.
However, Alpha definitely has some limitations. It was great at producing information about things like my birth date, how many pounds are in a stone and what the number 3.1415 is. But when I asked about some of my favorite artists, the results were very dry. For instance, searching for Jacques-Louis David gave me numerical information about his life, along with his nationality, name, profession and a portrait of the artist. None of his paintings were displayed, and there was no description of the kind of work he did. I searched for fairly well-known contemporary artists like Chuck Close and Gregory Crewdson, but Alpha didn't have any information about them. So while Alpha is a great source of information for some things, it isn't comprehensive in terms of subject matter.
This information gap is a bit of a drawback, but Alpha isn't really intended to give information on things that aren't quantifiable. As a computational knowledge engine, it does a great job. Even if you don't have specific information to look for in Alpha, you should give using it a shot. You might be surprised by how much fun you have.
This is the second review in a series on tools from Wolfram Research. Previously, the Techie reviewed Mathematica. If you'd like more information about Wolfram Research, check out our interview with Conrad Wolfram. Stay tuned for more Wolfram product reviews this week!
To continue researching, browse degree options below for course curriculum, prerequisites and financial aid information. Or, learn more about the subject by reading the related articles below: