Wolfram Tools Online: Mathematica Reviewed
The Education Techie reviews tech tools that can help students and teachers. This week, the Techie is taking a look at tools from Wolfram Research. Today's review: Mathematica.

What Is It?
Mathematica is a versatile, powerful program with a wide variety of applications. Primarily, though, the software is used in math, engineering and other technical or applied science fields. Because of Mathematica's highly technical nature, it will probably only be useful to those with the math and computer knowledge to complete advanced computations. This is not a program that will be of much use - or even be accessible - to your average math student. Really, Mathematica is a professional tool for engineers, scientists and scholars.
Even though most of its utility lies in professional applications, the company that produces the program, Wolfram Research, argues for its use in college and pre-college classrooms. Teachers can use Mathematica to create illustrations of computational concepts, make presentations and take advantage of build-in teaching models in subjects like biology, music, economics and engineering. Students can work with the program to complete computations, access mathematical functions in the various function libraries and solve systems of equations. These are just a few of the functions that this program can perform both in the classroom and in a professional setting.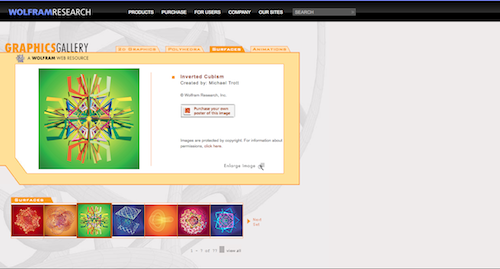 One cool by-product of this program is the stunning images that can be created through data input and computation. Because Mathematica includes advanced graphing capabilities, many of the program's users have ended up with results that are as visually interesting as they are technically relevant. Wolfram Research has created a special gallery site to showcase these images (pictured above). Though it wouldn't make sense to get Mathematica just to create some cool images, they're a good example of graphics the program can produce.
Mathematica is available for computers running Mac, Linux and Windows operating systems. Wolfram Research offers a 15-day free trial of the software, which you can access by registering for a Wolfram account. You can request that the trial be extended if 15 days is not enough. After the trial, licenses are issued according to industry. A single-license product download for businesses is $2,495, while the same for government costs $1,996. For faculty and staff at colleges and universities, the price for a single-license download is $1,095, though this may vary depending on your specific categorization. There's also a special version for students.
This is the first review in a series on tools from Wolfram Research. To read our interview with Conrad Wolfram, strategic director of Wolfram Research, click here.
To continue researching, browse degree options below for course curriculum, prerequisites and financial aid information. Or, learn more about the subject by reading the related articles below: