Wolfram Tools Online: Tones Reviewed
The Education Techie reviews tech tools that can help students and teachers. This week, the Techie is taking a look at tools from Wolfram Research. Today's review: Tones.

What Is It?
Wolfram Tones uses algorithms to create original musical compositions. The basis of the program stems from Stephen Wolfram's book A New Kind of Science. The book touches on the complexity and beauty present in nature, and how computations can be used to analyze and explain these phenomena in what the author calls the 'computational universe.' This is, of course, a very basic distillation of a very complex and advanced scholarly work. But in a sense, Tones is itself a very accessible way of presenting some of the theories published in A New Kind of Science.
Like Mathematica and many other products from Wolfram Research, the science and math behind Tones is probably a bit too complex to be accessible to the average person. Fortunately, you don't need to fully understand the program's mechanics in order to make music with it. Still, I think that the most interesting part of the Tones is its mechanics. Understanding the why and how of the sounds you create will add another level of complexity and significance to the user experience.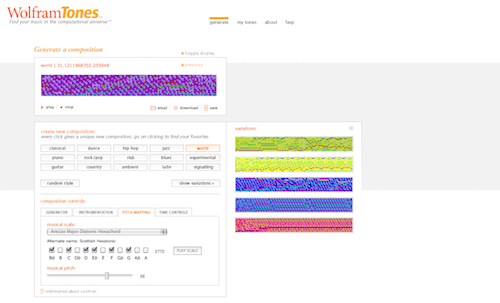 On a strictly musical level, Tones isn't the best composition program around. The musical sounds created are very elementary electronic sounding, almost like a MIDI file from the early Internet. But though the sound quality isn't great, there are a lot of different types of music represented in the program, and users can put to use their musical knowledge to make alterations to the compositions. This includes the ability to manipulate tempo, define the scale of notes used, select which instrument sounds will play and determine how long the composition will be.
You don't need to be an experienced musician with a foundation in music theory in order to make these kinds of changes - there is a simple interface that allows changes to be made by clicking buttons and moving sliders. Overall, the program is very easy to navigate and operate. The interface (pictured above) is very straightforward. If you have the proper plug-ins and browser capability, you can use Tones without any signup or payment. If you aren't really interested in algorithmic music, Tones is probably going to be more of an amusing novelty than anything. But for those with an interest in turning math into music, this will be a pretty fun and interesting toy.
This is the final review in a series on tools from Wolfram Research. Previously, the Techie reviewed Mathematica, WolframAlpha and Demonstrations. If you'd like more information about Wolfram Research, check out our interview with Conrad Wolfram.
To continue researching, browse degree options below for course curriculum, prerequisites and financial aid information. Or, learn more about the subject by reading the related articles below: