Scholarship Overview
To provide financial assistance to students who are interested in pursuing bachelor level degrees related to Communications, Journalism, Public Relations, Business Communications, Advertising, and Broadcasting.

Award Type: $500 Annual Scholarship
Duration: 1 year
Number of Awards: 1 each year
Deadline: April 1st, 2021
"
"
$500 Scholarship
Previous Winner
Ashley Franso, Bachelor of Arts in Communication at Oakland University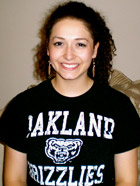 After graduation, I would like to start working with a radio or television station and work in entertainment broadcast, in which I would write and report segments on upcoming or current artists… As a singer, I have always enjoyed music and would love to be able to obtain a job that allows me to incorporate my degree and my passion for music.
Qualifications
This scholarship program is open to students pursuing Communications and Journalism related majors. High school students enrolled in a bachelor program in Communications or Journalism next year are also eligible to receive the award. A wide range of degree programs will be considered including but not limited to:
Selection is based on academic history, extracurricular activities, and employment history. Eligible students must be full-time students during the academic year the scholarship is received. Financial need is not considered.
Funds:
Funds are sent directly to the recipient by check to the student's permanent mailing address.
Academic scholarship winners who accumulate more than $600.00 in prizes over a one-year period will be issued an IRS form 1099 (or the equivalent). This will require contest winners to provide Learn.org with certain personal information prior to receipt of their winnings.
How to Apply
The academic award is provided by Learn.org. The application process is completely online.
Go to the scholarship application.
Complete all the required information on the application form.
When your application is complete, click the "Submit" button.