Educational Self-Indulgence: Fun Online Learning Games
There's plenty of distraction available on the Internet, but playing around online doesn't need to amount to a total lack of intellectual stimulation. There are free games and quizzes out there than can allow you to relax and play around while building skills and testing knowledge. In this article, the Education Techie takes a look at some of these games and quizzes.

Countries of the World Quiz
There are several variations of geography quizzes online, but this one, from Sporcle.com, is my favorite. The graphics are spare, but I find the format challenging and exciting. In this quiz, you are given 15 minutes to list all 195 countries on the planet. No prompts or hints are given - just a plain map of the world with nation borders drawn in. In order to get the answers right, you have to spell the country correctly. For instance, I knew that Kyrgyzstan is a country, but since I didn't know the right spelling, my guess of 'Kyrgizstan' didn't count.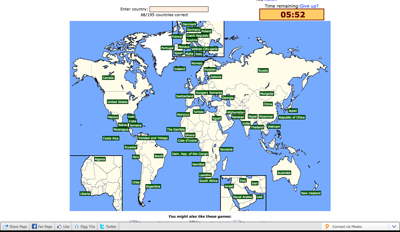 Sporcle.com has a large database of similarly useful, educational and entertaining quizzes. Another one of my favorites is the U.S. Presidents quiz. This represents a true test of knowing the presidents; no pictures or hints are given, just a timeline showing years in office. The site does have some quizzes in subjects that aren't educationally relevant, like movie trivia, but I think it's a great resource. You can test your knowledge of the countries of the world here, or try your hand at naming all of the U.S. presidents by clicking here.
Bookworm
Bookworm doesn't test knowledge in the same manner as a quiz, but the game does require concentration, analytical thinking and a good vocabulary. A basic version of this game is offered online for free by PopCap Games. This game is sort of like a combination of word search and a solo game of Scrabble®. Players are given a small screen of lettered tiles arranged in random order. You make words and earn points by connecting the letters to adjacent letters in order to form words.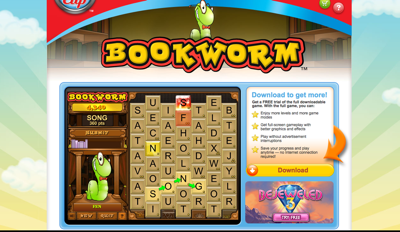 Bookworm is fun and diverting, but it will definitely make most users really think in order to maximize their score. I enjoy the experience of playing the game - the graphics are bright, clean and well rendered. It's also pretty simple, so this is something that users of all ages and tech abilities can enjoy. My one complaint is that the program seems to have a weird vocabulary, and what words are and aren't allowed isn't that clearly explained. Though it's a little annoying, it doesn't really have that big of an impact on the game. You won't be penalized for trying a word that the game doesn't recognize. Follow this link to play Bookworm.
Nature Typing
This game is one of many typing games from Fun to Type, a website operated by TypingWeb. (A review of TypingWeb can be found here.) In the game, players score points and defend their 'lives' by typing words before they fall to the bottom of the screen. Nature Typing features a pretty, simple design and starts off with a good selection of words. The game isn't terribly challenging, but the words included in the game are long enough to make it an exercise even for experienced typists.
If Nature Typing isn't your style, there are a lot of different games to choose from on Fun to Type. These games range from single-letter typing exercises to full-word typing games that include some strategy or other game-playing elements. This is a great place to go if you want to practice and improve your typing skills. Give Nature Typing a try by clicking here.
The Education Techie writes about education and technology and also reviews tools that can help students and teachers. Stay tuned for more articles from the Education Techie!
To continue researching, browse degree options below for course curriculum, prerequisites and financial aid information. Or, learn more about the subject by reading the related articles below: