Scholarship Overview
To provide financial assistance to students who are interested in pursuing master level degrees related to Information Systems, Informatics, Computer Information Technology, Computer Systems Security, and Technology Management.

Award Type: $500 Annual Scholarship
Duration: 1 year
Number of Awards: 1 each year
Deadline: April 1st, 2022
"
"
$500 Scholarship
Previous Winner
Megan Bowe, Masters of Science in Information Design and Technology at SUNY IT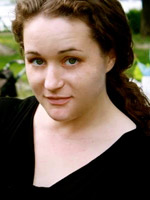 I am highly passionate about eLearning… I'd really like to go beyond the Master's degree, finish my Ph.D., and be able to teach programs online and work on designing new technologies that'll improve online education from where it is now... My long term career goal is to synthesize my studies and work in user science with eLearning tools to innovate how education is delivered, received, and how learning takes place online. I want to make information technology accessible and understandable to everyone, regardless of age, disability, language and culture.
Qualifications
This scholarship program is open to students pursuing Information Systems and Technology Management master's degrees. Undergraduate students do not qualify. A wide range of degree programs will be considered including but not limited to:
Selection is based on academic history, extracurricular activities, and employment history. Eligible students must be full-time students during the academic year the scholarship is received. Financial need is not considered.
Funds:
Funds are sent directly to the recipient by check to the student's permanent mailing address.
Academic scholarship winners who accumulate more than $600.00 in prizes over a one-year period will be issued an IRS form 1099 (or the equivalent). This will require contest winners to provide Learn.org with certain personal information prior to receipt of their winnings.
How to Apply
The academic award is provided by Learn.org. The application process is completely online.
Go to the scholarship application.
Complete all the required information on the application form.
When your application is complete, click the "Submit" button.